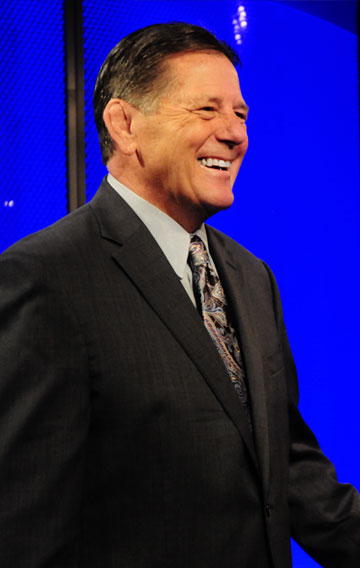 At UNC, Lam not only coached All Americans and National Champions, but also developed young coaches, including some of the most prominent names in the college sport today.
Lam's sphere of influence includes involvement with those coaches and their programs. As head coach for 30 years at the University of North Carolina, Coach Lam distinguished himself and the school.
Individually, he was recognized by the school, conference and national wresting organizations, including being named Man of the Year and Coach of the Year by his peers nationally.
Coach Lam has authored a chapter on CHOICES in Brian Tracy's new book "Pushing to the Front"
Lam took over a program which went 2-11 the year before he became head coach and promptly guided UNC to a 11-2-1 season. At the time, the 11 wins were a school record. Subsequently, Lam's team have broken the record for wins in a season five other times, including an all-time high of 18 wins in 1987 and 1989. In 1979, Lam led the Tar Heels to their first-ever national Top-20 finish as they placed 17th. After a 13th-place showing in 1981, Carolina soared to fifth in 1982. That is the highest an ACC team has ever finished at the national championships. UNC also was sixth at the NCAA meet in 1986 and 1994, seventh in 1987 and eighth in 1995.
Lam coached 37 All-Americas and earned ACC Coach of the Year honors 10 times. In 1982, he was honored as national coach of the year. In 1983, he was voted National Man of the Year.
Lam wrestled at the University of Oklahoma under legendary head coach Tommy Evans. Lam earned All-America honors at 157 lbs. in 1964 and 1965, finishing third and second in the country, respectively. As a senior in 1966, Lam was undefeated and ranked number one in the nation. However, he suffered broken ribs at the Big 8 Championship and was unable to compete at the NCAA Championship. He posted  the Sooners' record for career victories.
A special education major, he received his bachelor's degree from OU in 1966 and also earned his master's degree at OU in counseling and guidance.